Syria's story does not have to follow the Libyan script
The Arab League's dialogue with Bashar al-Assad has been dismissed by Syria's opposition – but it offers some hope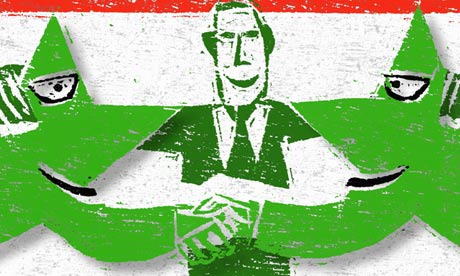 The deal requires the government to release detainees and pull security forces out of cities where protests have been held. It also requires a serious dialogue with the opposition. Exile groups have attacked the deal as a ploy by the regime of Bashar al-Assad to gain time. They are also worried, with some justification, that the dispatch of monitors could mark a shift in the Arab League's previously hawkish position. By putting off further sanctions and resisting western pressure to take the issue to the UN security council, the Arab League may at last be taking up the role of a mediator.
Whether Assad can summon the determination to push for real reform in place of the dither and denial that have characterised his response to the protests so far is unclear. He is right when he says the state is entitled to use force against armed rebels, but wrong to portray all opposition to his regime as "terrorist".
It is also uncertain whether the US, Turkey and other states who have called on Assad to resign can change course now. The Arab League's plan imposes obligations on the opposition too. Rather than taking sides with the exiles, the west should support the call for dialogue before it becomes too late.