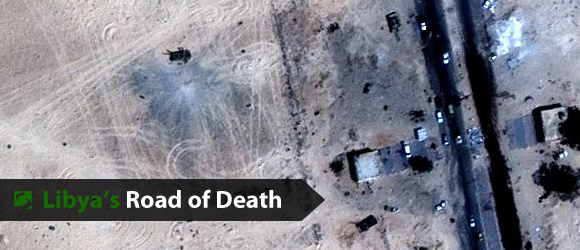 Demolished tanks line the highway connecting Tripoli and Benghazi after air raids

Prior to President Obama's address justifying a U.S.-European coalition in Libya Monday evening, leaders from around the world have sounded off in both support and condemnation of the intervention. In Russia, for example, Prime Minister Putin criticized it heavily as a medieval campaign.

Why, then, did Russia abstain from the U.N. Security Council resolution that authorized the no-fly zone, rather than use its veto? Sometimes, the words of political leaders require complete interpretation beyond face value.

In Russia's case, abstention was a calculated move to
facilitate
intervention. The subsequent instability could eliminate Libya as an oil & gas alternative, thus giving Moscow greater market share - and greater control - in Europe. Making sense now?

See the light by joining STRATFOR
. You'll get full access to revealing satellite imagery like the one here available via our partnership with Digital Globe, as well as
exclusive maps and analysis
that outline foreign interests throughout this tumultuous region.